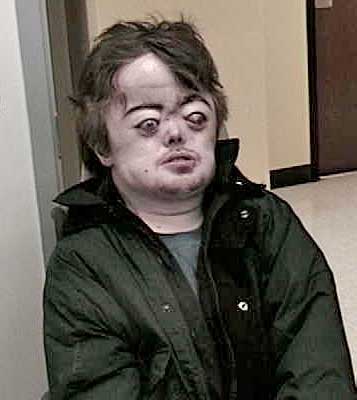 The photograph at right accompanies an entry in Ohio's Electronic Sex Offender Registration and Notification (eSORN) system. According to the eSORN entry, the picture depicts one Brian Peppers, registered due to a conviction for "Gross Sexual Imposition" in Lucas County, Ohio.
Points in favor of the argument that this in fact a real photograph are:
Snopes.com investigators contacted the Ohio Attorney General's office, who told them: "This is an accurate photo of this offender."
The same Brian Peppers appears (as entry #420) on a list of registered sex offenders in Lucas County (although if the entry were an erroneous one, it could have stemmed from the same source as the eSORN listing).
The unusual appearance of the individual pictured could be due to a condition such as Crouzon's Syndrome.
Although the setting of the photograph does not look what one might expect of a mug shot taken for a sex offender registry listing, informal pictures taken in police station cubicles and rooms are often used for such purposes, as evidenced by other photographs in the Lucas County sex offender registry.
According to snopes.com, they've also heard from several people who live in or near Lucas County and claim they've encountered Brian Peppers in the past. One of them told Snopes.com investigators they had a relative who attended school with Brian Peppers and forwarded them some school yearbook photos to document it: