The evidence is compelling
Last month, John Kerry lauded "Lambert Field" during a visit to Wisconsin. He has yet to acknowledge Lambeau Field, the historic home of the Green Bay Packers. (Look for a Football Fans For Truth billboard coming soon near Lambeau Field, educating Wisconsin football fans about Kerry.)
John Kerry also praised the Ohio State Buckeyes football team--during a visit to Michigan.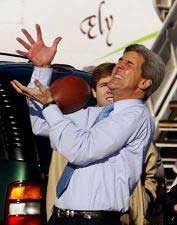 John Kerry catches a football like a girl.
NEW! Outraged fans throughout the nation have alerted us to The Great Football Flinch (right). We combed the archives for exculpatory evidence, but as of yet have found none that prevent this damning conclusion: John Kerry can't catch a football at all.

But there's more.
Kerry Strikes Out in Baseball
Kerry told a radio interviewer that his favorite Red Sox player was Eddie Yost. Eddie Yost never played for the Sox. He spent most of his career with the Washington Senators, where he earned the nickname "The Walking Man" for his ability to draw a base on balls.
Kerry once praised "Manny Ortez" of the Red Sox. There's no Manny Ortez on the Sox lineup--or indeed, any other MLB roster. Manny Ramirez and David Ortiz play for the Red Sox. Maybe all baseball players names sound alike to the Democrat nominee.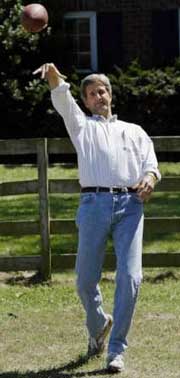 When Kerry threw the first pitch at a Red Sox-Yankees game, he did not throw from the pitcher's mound -- yet still bounced the ball before it reached home plate. He then blamed his namby-pamby throw on the catcher, a National Guard soldier and Iraq war veteran: "I held back," Kerry told reporters. "He was very nervous. I tried to lob it gently." Conclusion: John Kerry throws a baseball worse than a girl.
John Kerry responds to George Bush's GOP acceptance speech with the following opening remarks:
"I'll tell you what happened tonight that will be remembered. The Boston Red Sox moved to within 2.5 games of the New York Yankees."
At the time of Kerry's speech,however, the Red Sox had not moved up in the standings. While they won that night, so did the Yankees, and the Sox remained 3.5 games back. And John Kerry accuses Bush of misleading the American people?
Not convinced?
Hunting gaffe reports have tripled
John Kerry says he enjoys hunting doves. As he told the Washington Post, "You clean them. Let them hang. It takes three or four birds to have a meal. You might eat it at a picnic, cold roasted. I love dove." Any dove hunter knows that you don't "hang" dove (unless they've commited felony murder).
The Washington Post reported in an article entitled "John Kerry: Hunter, Dreamer, Realist" (which also noted that Kerry strummed the theme to "Love Story" on his guitar and "has such thick, aggressive hair he uses a brush with metal teeth") that John Kerry wrote the following poem to a deer:
"I had a talk with a deer today
we met upon the road some way.
...between his frequent snorts
He asked me if I sought his pelt
cause if I did he said he felt
quite out of sorts!"
The Milwaukee Journal Sentinel asked John Kerry if he liked to hunt. Kerry's reponse:
"I go out with my trusty 12-gauge double-barrel, crawl around on my stomach. I track and move and decoy and play games and try to outsmart them. You know, you kind of play the wind. That's hunting,"
Kerry did not reveal if one of his "games" was to read his poetry to the deer, which would certainly flush them from cover.
That's not all...
Kerry's sports shames continue:
When John Kerry was skiing, he fell. He blamed his Secret Service protection. "I don't fall down," he told reporters after the tumble.
John Kerry windsurfs. "The size of the wave, the intensity of the winds, the complexities that change as that changes. You don't control that." Secret Service Windsurfers?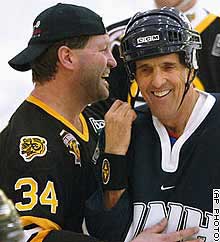 "You SUCK, Kerry!"
John Kerry on sports:
On hockey: "I love to play hockey."
On tennis: "I love to play tennis."
On sailing: "I love sailing."
On skiing: "I love to ski."
Quotes from: americanwindsurfer.com
Can any true sports fan believe this man?
How Can You Help?
Yes, Republicans have endured the occasional sporting shame. George W. Bush traded Sammy Sosa. Ronald Reagan called sports plays more than he played sports. And Vince Lombardi was a Democrat.
But America deserves a President who knows the difference between an airport and a football field, and who can spook a batter at least as well as he scares a dove.
Football Fans for Truth is dedicated to informing the American sports fan of the great risk that could befall our country.
Dino Panagopoulos, Chairman: "John Kerry is a menace to sports fans everywhere. Can we take four years of this? I don't think so."
Jeff Larroca, Director: "He is not fit to be our sports-fan-in-chief."
Football Fans for Truth is already moving forward with its public education campaign. The organization has ordered a billboard near "Lambert Field" to educate Wisconsin football fans of the! threat of a Kerry administration. It will stand through the election.
With additional public support from concerned sports fans, Football Fans for Truth plans to undertake other initiatives throughout the country.
Thanks to John Marden for sending me this gem of a story/website...