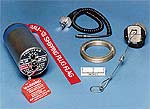 The FMU-139B/B Bomb Fuze is an electronic impact/impact delay fuzing system designed for use by both the U.S. Navy and Air Force in the MK 80 series and M117 low drag and high drag, guided or unguided, high-explosive bombs. It is manufactured by Alliant Techsystems. In addition to impact/impact delay, the fuze is capable of accepting a signal from a separate proximity sensor. The fuzing system meets all U.S. Navy and Air Force requirements, including the safety criteria of MIL-STD-1316.

Key features of the FMU-139B/B include ease of installation and preparation for flight, compatibility with the proximity sensor fire signal, ability to sense a high-drag delivery, and the ability to manually set the arming and event times prior to takeoff through its microcomputer (Air Force requirement) or electrically set them by cockpit selection at bomb release (Navy requirement).

In the Navy application, power is transmitted to the fuze from the AN-AWW series Fuze Function Control Set (FFCS) at release from the aircraft. In the Air Force application, power is provided by the FZU-48/B air-driven turbine alternator, which is lanyard activated upon release from the aircraft.